Picture of a Norwegian doorman outside Sportsbaren, Oslo, Norway. (Photo credit: Wikipedia)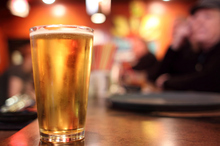 A gay couple were kicked out of a Nelson nightclub after they shared a kiss on the dance floor.
The two men, who did not want to be identified, were at Malbas Bar on Saturday night when a
bouncer
told them to leave.
Their friend Letizia Beyer-Rieger says they were shocked when approached by security staff.
"We were having a dance, doing our own thing, then one of them kissed the other. As soon as that happened the bouncer came over, went nuts and said 'sorry you're not welcome here, you have to leave'. When we got to the door we asked why we were getting kicked out and he told us "Malbas isn't a
gay bar
, go find somewhere else".
Bar general manager Anja Nicholson apologised for the incident on the bar's
Facebook page
but was unable to be contacted today.
"I would like to extend my sincere apology to both people who were removed last night in this incident. And to all those who were offended by this,'' she wrote.
"When I heard of this, I was quick to talk to the bouncer involved and of course allowed the guy back in. The opinions and views of any of the staff are not in direct relation to the opinions and views of our establishment, please do not allow this to taint your opinion of Malbas itself.
http://www.nzherald.co.nz/nz/news/article.cfm?c_id=1&objectid=10866174